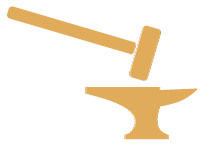 Goldsmiths Course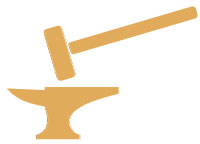 The courses usually consist of four to seven participants and an instructor, with whose help and guidance your jewelry dreams can come true.
Without any prior knowledge!
You can book two different types of courses. Either you work two and a half hours for six weeks (15 working hours) or one day at the weekend (about 6 hours).
In the beginner courses, you learn basic knowledge of precious metal processing and jewelry, as well as the handling of different machines and tools. In the first double lesson an exclusive gold or platinum ring is made.
In the advanced courses, you will learn consuming and difficult techniques - for example, the production of square frames.
In special Wedding ring courses we offer couples the opportunity to forge their own wedding rings in gold or platinum - unique and affordable!
Are you curious?

We're looking forward to your phone call or your contacting via our contact form.
For further information as for example course fees, please click pricing. At our material pages you'll get to see pros and cons of gold and platinum.
Take a look at our gallery and get inspired by the results other course participants experienced.
We're looking forward to hearing from you.